If your product is going to sit on the store shelves, it has to sell itself with a glance. Display boxes can promote your product or service (such as a counter display for brochures or credit application forms), or as a standup floor display for larger items.
Large volume discounts offered on all of our display boxes.
Countertop Displays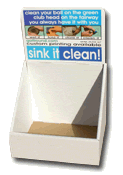 Perfect for smaller items such as cd's, dvd's or knives! Counter-top displays are available in stock sizes and colors or can be customized to your exact specifications.
Price Range:

Stand-Up Displays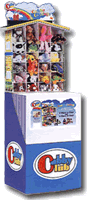 Call attention to your product with an attractive floor display. Available in stock sizes with or without printing, these displays are sturdy and able to handle even the largest of items.
Price Range: