Box Accessories
Instabox Inc. Can design and make Custom Boxes, Displays and more for your products right in house. We also have Box Accessories as well. Box Dividers and Pads are more ways to protect your products from damage in shipping.
Our Custom Box Dividers are made to your specs for cell size and cell count. These Box Dividers are designed to fit either an existing box or can be custom made to fit the Custom Dividers perfectly. Custom Dividers can be made on many grades of Chipboard and Corrugated Board. We can even make them on Corrugated Plastic.
Corrugated Box Pads are useful when layering products in a box with the use of Custom Dividers. Pads can be used alone to add extra protection to your product for shipping. Our Corrugated Box Pads can be made with Double Wall and Single wall and can also be Die Cut into shapes to fit a special shaped item better.
Custom Foam Inserts are made to protect expensive and fragile items in place. There are many types of foam grades we offer so find out what's right for you when speaking with your packaging expert. Custom Foam Inserts are a great way to protect pieces for getting damaged in freight.

Separate compartments within a larger box. Ideal for maintaining product position and cradling fragile items…

Used to separate layers of product within a box. Excellent for unique promotional materials…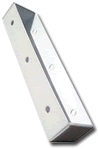 Great for storing bottles or as parts containers. Make them as plain or as fancy as you want them…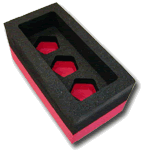 Foam inserts make sure that it gets there in one piece – NOT pieces. Custom fit to your exact box specifications…