Bin Boxes
These open tray-type boxes are ideal for maximizing your shelf space by organizing supplies, parts, magazines and newsletters. Available in standard and die cut styles, a bin box is perfect for all your organizational needs.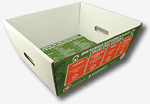 Click to enlarge
Box Type:Die Cut Tray
Material:200 B Corrugated / 2 side white board
Printing:3 colour inside and out Flexo
Customer:Discover Science Center, Santa Ana Ca.
Use:collection box for household hazardous waste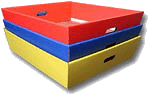 Click to enlarge
Box Type:Nestable Trays
Material:corrugated
Printing:flood coated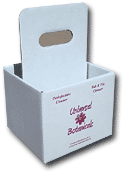 Box Type:Bin Box
Material:Corrugated Cardboard
Printing:2 Colour Flexo
Client:N/A

Box Type:Bin Box
Material:Corrugated Cardboard
Printing:Single Colour Lithographic Laminate
Client:N/A

Box Type:Bin Box
Material:Corrugated Cardboard
Printing:Full Colour Lithographic Laminate
Client:Cactus Containers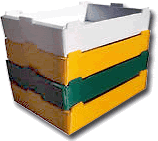 Box Type:Bin Box
Material:Corrugated Plastic
Printing:None
Client:N/A