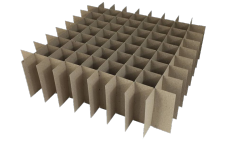 Many people have figured out plenty of ways to reuse old boxes. From storing things in the attic to creating a fort for kids to play in, many boxes find a lot of life after they have fulfilled their initial purposes. While boxes are easy to repurpose, many forget to try to reuse the cardboard box dividers that are often found in boxes.
The cardboard box partitions are a great way for a manufacturer to separate their product in the box. They are a great way to keep bottles from knocking into each other and getting damaged during shipping. They have been used for a long time, but they have not always been reused as often. With a little thought and creativity, there are plenty of ways to reuse these dividers that otherwise end up in the trash.
Organize drawers – One of the most obvious ways to reuse the dividers it to organize the drawers in the home. Junk drawers in homes are usually overflowing and finding anything in them can be difficult. Clothes in dressers can be easily organized with the help of cardboard box dividers. These dividers are meant to keep things separate, so it is a good idea to find things in the home that need to be separated.
Wall Art – Many homes have a lot of small knickknacks that they cannot display well. Hanging the dividers on the wall and using their spaces to display the knickknacks solve this problem. Using colored dividers or adding decorations to the dividers can make the display nicer.
Pen and Pencil Holder – Pens and pencils are left throughout the home. They are almost impossible to find when they are needed. The dividers in a box can be the perfect place to put pens and pencils or any other drawing instruments. It will make it easy to find the right pen when it is needed.
Tool Bench – Small tools, screws, nuts, and bolts end up spread across the tool table and are often lost. Using the cardboard box partitions is a way to keep the tool bench neat and organized and to be able to find the parts that are needed to get a job done.
Recycle – Cardboard is recyclable, and that includes the box dividers. Instead of throwing them in the trash and having them sent to a landfill, put them in the recycle bin and help protect the environment.
There are plenty of uses for the box dividers that are often discarded. All it requires is a little imagination and effort.