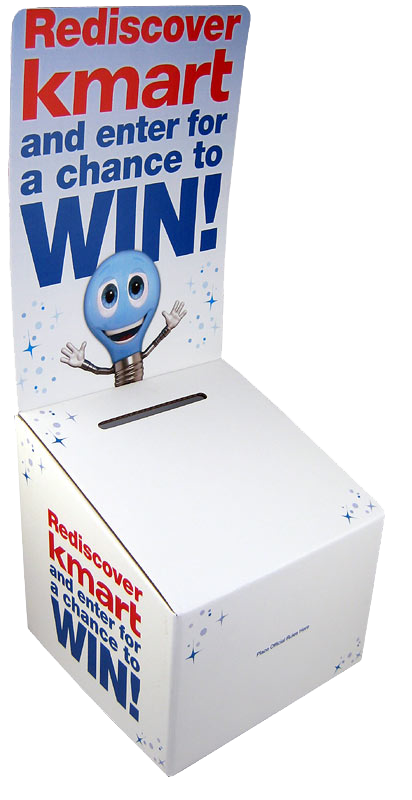 If you are running a sales promotion, taking suggestions, holding a contest or election, or doing any other activity for which a ballot box might come in handy, you should check out a corrugated ballot box by Instabox today.
Our ballot boxes are made of high-quality corrugated cardboard. They are rugged and reliable, and you can have them custom-printed to fit the needs of your business or organization. A ballot box with your company's name, address, phone number, email address, and social media contact information can be the perfect way to get customer attention at the same time you are using it for such things as taking suggestions or conducting a prize giveaway.
If you want to make a statement to your customers (or to your potential customers) a corrugated ballot box is effective enough to get the job done and economical enough that it won't break the bank to purchase one—or several!
Available in a wide variety of sizes, our boxes can be printed with whatever information you need. Or, if you prefer a more generic ballot box, we can provide you with a pre-printed one. Whichever route you want to take, we can help you get there.
A corrugated ballot box can be designed to include a header—a piece of cardboard that stands up from the box and informs people as to what the box is for. Headers are also a great place to affix a business card for your company and garner more customer exposure without diminishing the use or function of the ballot box.
Or, if you prefer a more basic, utilitarian ballot box, we can create one in a solid color without any splashy advertising and without a header. These types of boxes are more suitable for conditions where you need to use a ballot box without detracting from something else in the area.
Regardless of what you are looking for in a corrugated ballot box we have something to fit your needs. Take some time to peruse our listings and select the option that best fits the needs of your organization. If you have something else in mind and you don't see it here, feel free to contact us and let us see what we can to do help you. We are your one-stop source for all your ballot box needs.