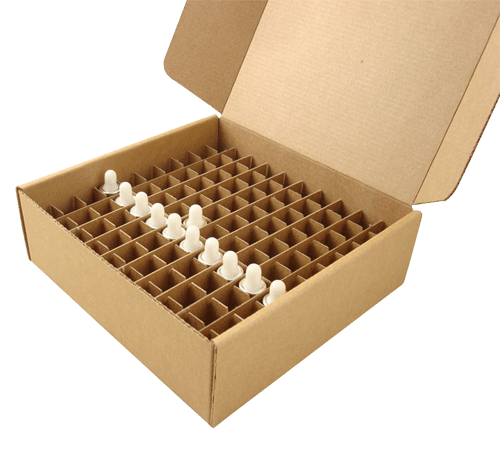 As a business owner, you probably already know how costly shipping can be. This is especially true in situations where you must use multiple containers to ship a product in order to prevent the product from becoming damaged or broken during transit. If you have ever looked over your shipping costs and wondered if there is a better way, you should consider using cardboard box dividers to assist you in your shipping operations.
Cardboard box dividers may be employed in a number of ways. Essentially, these fiber dividers are used to create multiple compartments within a single container. These compartments may then each be filled with product, and the entire container may be shipped at once. This system saves you money in duplicate shipping charges, increased employee time, additional materials required for shipping, and so on.
By using box dividers, you can take the fullest advantage of all the space a given container has to offer. Rather than shipping a box that is mostly filled with air or packing material, you can ship a box that is filled with your product: this means more product moving to your customers with a significantly lower shipping cost.
Using fiber dividers makes financial sense; it also helps preserve the environment. You will be utilizing the postal service to move only one package to your client rather than moving two, three, or more packages. The environment will gain the benefit of decreased miles the shipper has to drive, your customer will appreciate the convenience of getting more product in a single shipment, and your bottom line will reflect the savings you realize by using cardboard box dividers to fully utilize all of the space in a given shipping container.
Aside from shipping considerations, cardboard box dividers can be useful for those merchants who purchase a box of a product and then set it directly on the retail shelf without unpacking it. The fiber dividers act as a sort of display case, and customers can reach directly in the shipping container to obtain the product they wish to buy.
Take a few moments and browse the various sizes and types of cardboard box dividers that we provide. If you are looking for something in particular and you don't see it, please don't hesitate to contact us. We are here to help you, and we look forward to increasing your profitability!