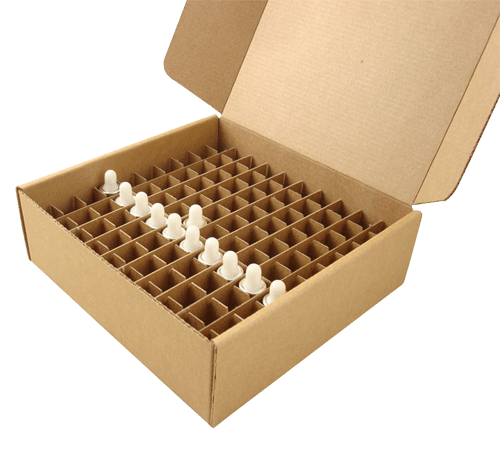 Big things come in small packages. In the world of logistics, small packages are expensive and unhandy. They get lost easily, harder to track, and easier to steal. This is why keeping track of smaller items during transport is much harder than larger boxes. It just makes sense that the smaller the box the more expensive it is to ship.
One of the solutions is to manufacture small boxes for each item and then pack them in a larger box. This would increase the weight of the package and reduce the amount of space in the larger container for each item. It is also difficult to calculate the exact dimensions of the box to match the optimal size for shipping containers. This solution, unless done exactly right, does not entirely solve the cost-related problems with regards to shipping small items.
The Benefits of Using Corrugated Cardboard Dividers When Shipping Small Items
Corrugated cardboard dividers are a solution that is both cost-effective and eco-friendly.
Low cost. Integrating intersection sheets of cardboard dividers to create separate compartments will help smaller products remain in place and be transported easily. The box and the divider can be custom-fitted to create a specific number of cells and box size.

Protects fragile items. This is especially useful for transporting fragile objects. Dividers will act as a cushion and push each other to prevent them from cradling and breaking. Lightweight biodegradable and recyclable materials keep shipping cost low and have almost zero carbon footprint.

Environment-friendly. Corrugated cardboard dividers are also reusable and recyclable. It can be repurposed and recycled into other materials. It also has a collapsible feature that allows easy storage for future use.

Can be personalized. Corrugated boxes and partitions can also be printed with high-quality graphics and texts. You can use your boxes and dividers as great marketing materials to improve brand recognition of your logo and company by printing them into these boxes.

Availability. Cardboard partitions are the perfect packing solution for small items, especially for long-distance shipping. There are plenty of providers worldwide that you can find that can manufacture these cheaply. It is also collapsible so it can be shipped to your factory at minimal cost. There are also local companies that provide corrugated partitions in Toronto, Ontario using recycled Canadian materials for their boxes and dividers.
The variety of benefits in using partitions and dividers as a shipping solution for small items is enough why it is the favorite cost-effective solution for most companies. Choosing an eco-friendly option will show your customers that you care about the environment.