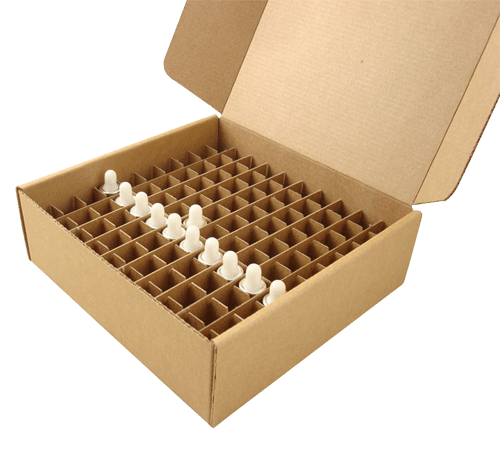 We have all had it happen at some point. We place an order only to have the merchandise delivered in pieces. Even just chipped, and the hassle of going through the return process can be a nightmare. From a consumer point of view, they will not order from that company again. Don't let that be your company. Custom box dividers protect your unique merchandise and your business' reputation.
Cost Efficient
Ever since the internet has become an integral part of everyday life, opportunities have opened up at our fingertips. Consumers can purchase items from all over the world and not just light weight products. E-business is rapidly overtaking traditional brick and mortar stores and that means shipping plays a larger role in your overhead costs. Corrugated box dividers help you to keep costs down in multiple ways.
Their lightweight design keeps the cost of shipping down.
Their durability provides adequate protection for fragile, bulky or heavy items.
Their versatility can fit any product shape and size.
They can be re-used and recycled for a more environmentally friendly packaging.
By protecting your customers' purchases, you are also saving money on damaged items that can't be replaced.
Superior Protection
Peanuts were fun as a kid, but they do not provide the level of protection for a lot of items that corrugated box dividers do. Dividers have individualized compartments that can be easily sized to fit snug against your product for ultimate protection. They can also be stacked, ideal for shipping multiple parts within the same box.
Peanuts may cushion against bumps and the general wear and tear of shipping for lighter weight items that are not fragile. Custom box dividers provide sturdy protection by stabilizing the position of your product and minimizing shock. They are also superior to packing peanuts or Kraft paper for heavier items that would otherwise settle to the bottom of the box, leaving your merchandise vulnerable. If your product breaks in the delivery process, the burden of responsibility still falls to you to make it right, not the shipping company.
Reputation is Everything
Today's market is the most competitive ever. Companies are no longer competing with the store across town; they are competing across the ocean. Your ability to adequately ship your product in a unique and protected manner is crucial to the reputation of your business. With so much on the line, it is the small differences that make the biggest impact.
[10/6/2015]