Custom Labels
Sometimes generic labels just don't fit the bill. When your labeling needs require something different, something jazzy, something that catches the eye, custom labels are the answer. Customizing your labels ensures that each label looks exactly how you want it to look, and each label contains the specific information you want displayed. With custom labels, you can choose the shape, the size, the border, and even the colour. Our many style options, such as our shiny, gold, and silver finishes, make it easy to create a label that matches the vision in your mind. Contact us today for a free, no obligation estimate.
Shape Options
Not only are our custom labels available in a rainbow of colours, we can also create your labels any shape or size you can dream of. Here are some examples of our most popular label shapes & sizes: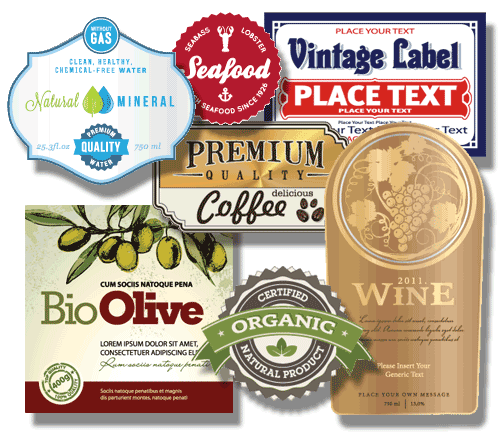 – Coffee Labels
– Food and Grocery Labels
– Health and Beauty Labels
– Liquor Labels
– Olive Oil Labels
– Organic Labels
– Restaurant Labels
– Retro Labels
– Seafood Labels
– Valentine's Day Labels
– Vintage Labels
– Water Labels
– Wine and Beverage Labels
– Blank Laser Labels
– Rectangles
– Squares
– Circles
– Ovals
– Special Shapes
Colour Options
We can print your labels in any colour of the rainbow. Free full colour proofs! Full colour, or 2 colour process!
Style Options
We offer a variety of pressure sensitive substrates including perforated, backscored, laminated & fanfolded on 3″ and 1″ cores.
Gloss (shiny finish)
Matt (regular ship-to labels)
Gold Foil (gold finish)
Silver Foil (sliver finish)
Clear (for window applications)
Fluorescent (orange, red, green, yellow, pink)
Freezer Grade (for cooler applications)
Direct Thermal (for direct heat label printers)
Thermal Transfer (for ribbon label printers)
Drumtac Vinyl (for outdoor application)
Durascan (vinyl label w/ strong adhesive)
Other Options
Bled Border – Printed border right to the edge of the label
Die Cut – Rounded corners and spaces in-between label
Butt Cut – No space in-between labels
Lamination – Label is printed then laminated
Free Estimate
Contact us today by for a free estimate. No costs. No obligations.