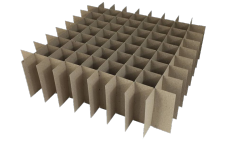 If you are wondering how to best protect your products during shipping, corrugated dividers ensure that the item reaches the destination without any damage and in top condition. When you choose corrugated partitions in Kamloops B.C., you no longer have to worry about the safety of your product.
Durability
The corrugated packaging boxes are extremely durable with specially designed partitions that can accommodate a wide range of products including glassware, perishables and pharmaceuticals. The partitions or dividers provide a safe cushion for any product and keep them safe during shipping and handling. Depending on the type of protection needed for the items, you can make the choice of corrugated packaging boxes.
Easily Customized
The thickness of the corrugated cardboard can be easily adjusted, so that it can make a perfect fit for any product or item that needs to be shipped. Apart from this the cardboard can have different adhesives, coatings and treatments to make them fire resistant. They are available in different sizes and can be folded into different shapes to fit the requirement of any product or item from any industry. The printing options can also be customized.
Cost Effective and Sustainable
The corrugated packaging boxes are one of the least expensive cartons available. High labor costs and costly tools are not required to manufacture these boxes. They can be easily recycled and stored for later use. The partitions can be of different densities depending on the product that is shipped.
The high-quality partition corrugated packaging boxes are designed to keep the products safe and clean during the entire shipping process. As the materials used to make these boxes are lightweight they help in keeping the shipping costs low. This also makes it easy to handle any type of product.
Dirt Resistant
When shipping pharmaceutical products, it is important that the partitions and dividers are clean. Dirt and debris can easily damage such items. The partitions are perfect for shipping such items as they keep debris and dust particles away from sticking to the surface. The dividers provide a much cleaner look to the entire packaging.
The biggest benefit of using partitions and dividers is that they provide maximum protection to the products, without you having to worry about the items getting broken, damaged or dirty. The partitions enable you to ship more items per box, as they can be neatly arranged without risk of the items getting damaged during shipping.