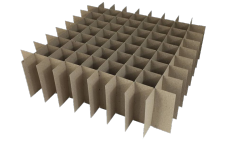 A Swedish chemist offered the world a friendly gift. Doctor Carl Dahl invented the chemical procedure by which we receive kraft paper from wooden pulp, in the mid 1880's, and by the twentieth century, paperboard was being widely produced all throughout the world.
Basically, corrugated is layers of the kraft paperboard – one layer of crimped kraft that is glued to flat kraft surfaces. The corrugated cardboard then can be folded then bound into packing boxes with cardboard dividers, and is able to sustain custom, multicolor print jobs.
Lots of self-described purists of wine will say to anyone that wine inside a box automatically is inferior; but, for rationally-thinking individuals who still enjoy good wine, the truth remains that occasionally boxed wine with box accessories are fine. The ones producing the wine especially ought to appreciate boxed wine, because amongst the best benefits is the box itself.
Wine Box
One upside to utilizing boxes over bottles includes shipping costs. Glass bottles usually are heavy, and will require extra materials (like bottle boxes) to transport. These additional materials take up more room and add even more weight. On the other hand, cardboard boxes are able to lie flat to ship, and individually, are a lot lighter than glass; therefore, one truck is able to haul more boxes – meaning boxes aren't just more eco-friendly to use, they're more cost-effective.
One additional benefit to boxes includes their sturdiness. Glass can be fragile – if one bottle tips over while shelving or shipping, if it does not break in the fall, there's a good chance that the round bottle could roll then break against the wall or worse, one other bottle. Boxes will stack tall and straight, and are not likely to break even if the bottle falls over.
Better yet, boxes provide more branding real estate because of their shape. Glass bottles receive one or two labels, and they do not cover the whole container; therefore, if you are not looking right at the label on its front, you may not have the ability to tell who created that wine. However, boxes have 6 flat sides: simple to print, simple to see any angle, simple to stack taller than additional items, simple to make your brand known.
Indeed, boxes are beneficial not just for winemakers, yet also those who like to consume wine instead of just collect wine. If we are able to drop the pretentions, we might stop dropping bottles and begin to live eco-friendly, well-branded, cost-efficient lives consuming wine from boxes.