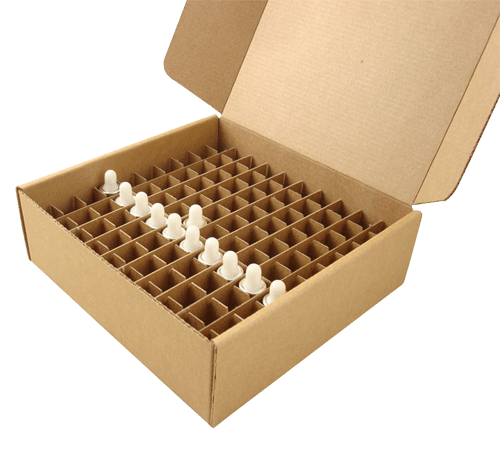 Cardboard box partitions are often thought of when you need to ship multiple items in one box or maybe you use them to store items, such as Christmas ornaments, in a plastic container. Whatever the case may be, the thin, cardboard partitions are the most commonly known, but they are not the only option when it comes to protecting your shipments. If you are in ecommerce and are starting to ship more and more, you need an efficient way to ship multiple items that will be eco-friendly, cost effective, and allow your items to arrive safely. Understanding your options will help you make the most of your shipping choices, while creating a profitable company.
Corrugated Cardboard Dividers
If you are shipping heavy, fragile items, corrugated dividers are the best choice. They can withstand the weight and pressure of the larger items, while keeping them safe. You can obtain these dividers in a variety of sizes and with different locking abilities, such as v-notches in order to ensure the safety of your products. This type of divider is also very easy to maneuver, allowing you to store it flat when not in use and pop it right back into place when you are ready to ship.
Custom Foam Inserts
If you ship odd shaped items that are also fragile, you may need custom foam inserts created to ensure the safety of your products. These fiber partitions make it easy to rest assured that your products are arriving in one piece no matter what type of shipping process they go through. The cost of the custom shape and size inserts are worth not only your peace of mind, but the satisfaction of your customer who will be more likely to recommend you or frequent your business again if your products show up in good condition.
Corrugated Pads
Sometimes your box needs a little padding or you need a divider between the layers of your materials. Rather than using paper or other fillers, corrugated pads can do the job just right. Pads can be made to fit any size box and are completely flexible, making it easy to fit them just how you need them in any box. Because of the versatility of corrugated pads, you can use them for just about any needs in your shipping, giving you the added protection that your products need.
Take the time to figure out which type of partitions would work best for your products. The type you choose should depend on the fragility of the product you are shipping as well as the presentation you desire for the end customer.
[9/8/2015]