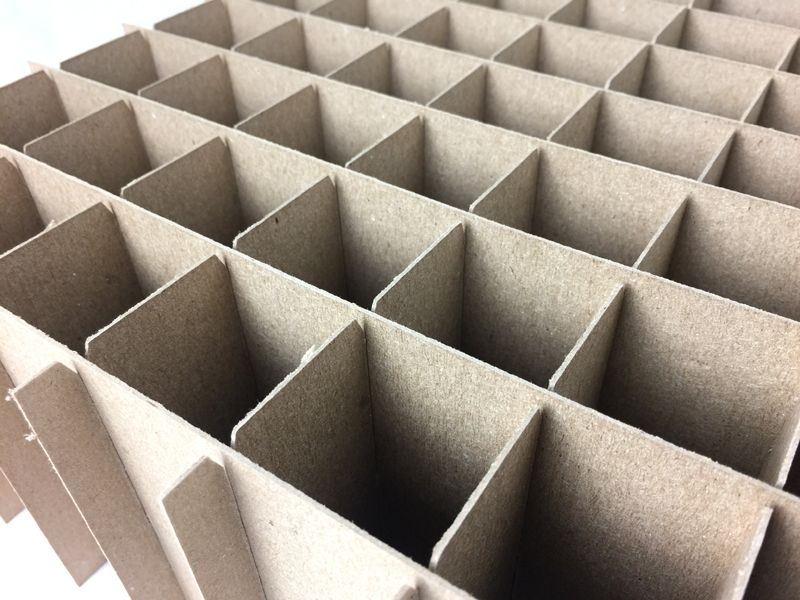 Stacking all your items, especially glassware and fragile materials in one container would be ineffective as they can bump into each other during transit. The most effective way of safely transporting your fragile materials in one container is with the use of chipboard dividers.
Using dividers to create a secure and cushioned package will not only protect your product but can also be a good way to keep them organized during shipment. Separating each delicate item using a divider in one package can be a good way to save space and keep items grouped in one package.
Most shipping companies use dividers to separate individual items but keep them in the same container. This makes it safe during transit so they arrive at their destination in one piece.
A Chipboard Partition is the Most Effective Strategy for Damage Protection
Using a partition for materials made of delicate materials such as glass, ceramics, and antiques will protect them from damages. Not only will they arrive intact, but it also ensures that their value is not affected. Carelessly putting the same materials in one box without any protection will significantly diminish their monetary value if they happen to incur scratches or damage during transit.
Never underestimate the value of chipboard partitions when shipping valuables of the same kind. Even big companies understand the value of their products which is why most use dividers to separate individual pieces in one box.
Pharmaceutical companies, beverage manufacturers, automotive fabricators, and cosmetic producers all use chipboard dividers to protect their products from incurring damages when shipped to their distributors. Using a box partition not only protects your product but is a good way to reduce overall packaging expense and unit cost saving your company from unnecessary shipping loss.
Box Dividers Can Also Be Used In Variety of Ways To Make Life Easy
Package partitions have many uses aside from providing protection and keeping your shipped items organized. They can be used in a variety of life hacks to improve your home and office space.
When used in the closet, they can be used as dividers for the often disorganized materials such as socks and underwear. Neckties and hankies can also be divided and coordinated in the individual compartments making them easily accessible.
They can also be used in a wide variety of settings including offices to organize pens, papers, and other materials. Using cardboard partitions in the storage can also be ideal as they can be used to arrange items such as fishing hooks and other small garage supplies.