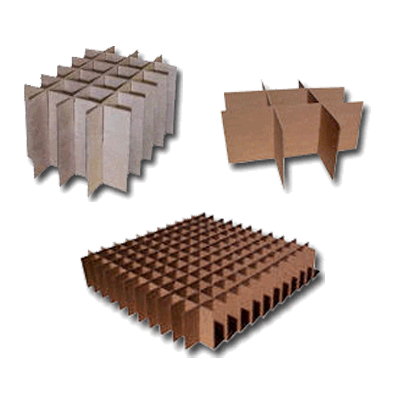 Shipping product to a customer or client can be a tricky proposition: you want to protect your precious product—especially when it is a fragile item such as glassware, china, or delicate electronic equipment—and sometimes that means making sure that multiple pieces of product do not knock against one another during shipment.
Loose pieces of product can roll around in the shipping box, hitting each other and causing breaks, chips, scratches, or other damage. The solution is to keep the pieces separate from one another, and a great way to do that is to use cardboard dividers. Cardboard dividers fit neatly inside the box, keeping each piece of product separate and preventing the items from striking one another. At the same time, cardboard dividers give your product a professional presentation when the box is ultimately opened.
If you need stronger dividers, check out corrugated dividers. Corrugated cardboard dividers provide more strength and cushioning than other types of cardboard dividers. Although they do take up a little bit more space in the box—due to their increased thickness—you can be assured that any time you use corrugated dividers, your product will arrive at its final destination undamaged and preserved.
If you don't need as much strength in your cardboard dividers, other options include fiber dividers and chipboard dividers. These cardboard dividers are more slender than corrugated dividers, but they are in turn more flexible.
Regardless of whether you are shipping delicate glassware, expensive china, sensitive electronic equipment, or something else, you can be assured that the best choice to protect your shipment is to use cardboard dividers. Available in a wide range of sizes, heights, and materials, cardboard dividers are the economic and sensible choice for your shipping needs.
The best way to see services offered and the variety of items in stock is to visit an online company to see what your options are. A properly set up site and legitimate company will know what you are looking for and how to properly present the information to you. Remember that you want to go with a company where the selection is rather large and reasonably priced. If you are having difficulty, do not be afraid to shop around. All reputable shipping companies will work tirelessly to uphold their reputation as one of the best places to find shipping materials, and exude nothing but superior customer care.
So, whether you need heavy-duty corrugated dividers or some other less rigid cardboard dividers, rest assured that the top leaders in the industry will have what you're looking for. Take some time, peruse different websites, and if you are looking for something you do not see, continue looking until you do.