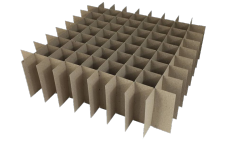 A lot of different things can happen to your shipment en route. Damaged items happen because they bump into each other during transit. Protecting your delicate items during shipment will ultimately relieve you from the distress of losing a dear possession.
Using cardboard dividers especially for fragile items has always been useful to secure your investments. It is the perfect solution to protect breakable items from shattering into pieces. Not only that, it is also a great way to organize your items so that the move will be well coordinated and systematic.
How Do Cardboard Dividers Provide Maximum Protection for Your Items
Chipboard partitions used for packing materials are extremely adaptable and flexible. They provide the needed strength to ensure that every item has their own space inside the box.
These inserts separate every item from each other so that they have ample space for movement or if not, a space divided between each item so they do not come into contact. They also act as an added stiffener which is suitable for damage protection.
Chipboard partitions used to organize your package can be used for various creative ways such as arranging small items such as arts and crafts and various random accessories. It can be recycled to serve other purposes aside from being a packaging supply.
Although using partitions is not a new invention, those made from chipboard offers better advantage than partitions made from other materials. This paper-based material made from the paper pulp is generally thicker and is hard enough to serve its purpose.
Chipboard Dividers are Cost-effective and Recyclable
Shipping items using individual cartons are definitely more expensive than having a partition that encapsulates individual items. This is the better solution when it comes to packaging similar items because they are grouped together in one container and makes it easy when unboxing.
Chipboard box dividers come in many different sizes depending on your needs. They can also be customized to your specific demands to fit whatever needs to be protected. Designed to hold several items of a kind, this packaging supply is ideally used when bubble wrap and foam inserts do not suffice.
Aside from that, chipboard dividers are eco-friendly. They can be reused in a number of ways that preserve the environment. It is a good alternative to organize your closet drawers or any toolkit materials that are sometimes disorderly.
Chipboard dividers are not only strong materials to protect your belongings, but are also versatile enough to be recycled.