Filament Tape
Filament tape also known as strapping tape has various uses such as bundling materials, reinforcing boxes, sealing corrugated fiber boxes and more. It is made of a pressure sensitive adhesive.
Various type of filament tape are available, some capable of handling up to 300 LB of tension per inch.
Use of this tape is ideal for sealing corrugated boxes like full overlap box, five panel wraps boxes and telescoping boxes.
We offer filament tapes ranging in size between 12mm and 24mm by 55. You can apply it more efficiently with one of our hand held tape dispensers.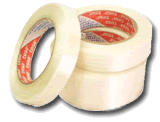 Filament Tape
| | | | |
| --- | --- | --- | --- |
| COMP | DESCRIPTION | SIZE | QNTY |
| 2177 | Tesa #53317 | 12mm x 55m | 1 |
| 2178 | Tesa #53317 | 18mm x 55m | 1 |
| 2179 | Tesa #53317 | 24mm x 55m | 1 |
| 1659 | Tesa #53317 | 36mm x 55m | 1 |
| 2838 | Tesa #53317 | 48mm x 55m | 1 |
| 3129 | 3M #8934 Utility Grade | 12mm x 55m | 1 |
| 3130 | 3M #8934 Utility Grade | 18mm x 55m | 1 |
| 3131 | 3M #8934 Utility Grade | 24mm x 55m | 1 |
| 3630 | 24″ x 100′ | T220 | 1 |