Paper Gummed Tape
Paper Gummed Tape is generally made from brown paper or white paper. It has dry glue on one side. In order to activate it you wet it, similar to sealing envelopes.
You can use a wet cloth or a sponge to activate the glue.
We supply paper gummed tape in various sizes ranging from 35mm x 150mm to 75mm x 175mm, both standard and reinforced.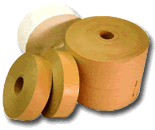 Paper Gummed Tape
| | | | |
| --- | --- | --- | --- |
| COMP | DESCRIPTION | SIZE | QNTY |
| 232 | White Paper Gummed | 35mm x 150m | case |
| 234 | Kraft Paper Gummed | 35mm x 150m | case |
| 235 | Kraft Paper Gummed | 60mm x 175m | case |
| 233 | White Paper Gummed | 60mm x 175m | case |
| 236 | Kraft Paper Gummed | 75m x 175m | case |
| 887 | White Paper Gummed | 75mm x 175m | case |
| 237 | Reinforced Kraft Paper Gummed | 75mm x 175m | case |
| 238 | Reinforced White Paper Gummed | 75mm x 150m | case |