Strapping Tape
The Tesa NOPI™ 4090 strapping tape features a strong tensilized polypropylene backing with a rubber resin adhesive with a good initial tack and high shear resistance.
When properly applied, the tape shrinks around loads holding them firmly. Its strength allows for give-and-take without breaking. It is available in Black and White colors.
The Tesa NOPI™ 4090 strapping tape is mainly used for unitizing corrugated cardboard boxes and paper board boxes.
It is rated with 95 Lbs. per inch tensile strength and 35% elongation resistance.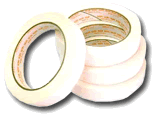 Strapping Tape
| | | | |
| --- | --- | --- | --- |
| COMP | DESCRIPTION | SIZE | QNTY |
| 2603 | Tesa #4090 Strapping Tape | 9mm x 55m | 1 |
| 2352 | Tesa #4090 Strapping Tape | 12mm x 55m | 1 |
| 2395 | Tesa #4090 Strapping Tape | 25mm x 55m | 1 |