There was once a time, where packages were mailed and delivered in a brown package, all wrapped with twine or strings. But the problem, however, was it was wrapped in string. The string's purpose was to seal the package, but instead it damaged the package. Also, the string or twine also had the tendency to get caught or entangled in the mail processing equipment, causing damage to the equipment, or again, causing damage to the package itself.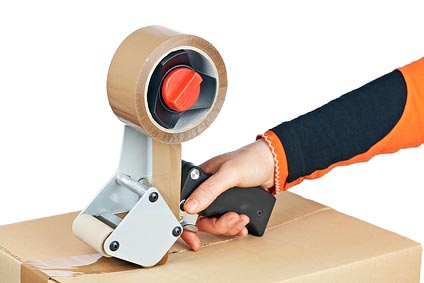 Don't take something so simple for granted. Use the right material for the right job and move on. To send a package, of course you will need packaging materials such as boxes, bubble wraps, box inserts, etc. But, let's take a closer look at the different variety of tapes to seal that package right.
To send off a package, use strapping tape, packaging tape, shipping tape, brown packaging tape, reinforced packaging tape, or paper tape for closures. These types of packing tapes supply instant adhesion and provide immediate holding power. They're also strong enough to withstand temperature fluctuations during transit. It is not recommended to use cellophane tape, masking tape, or duct tape to send off a package. These kinds of tapes curl or not stick once the temperature drastically change during transit.
To close corrugated boxes such as a full overlap box or a full telescope box use a filament tape or strapping tape. They're also great for closing corrugated fiberboard boxes, reinforcing packages, pallet unitizing or bundling items. Note the extra strength filament tape can offer. Some have as much as 300 pounds of tensile strength per inch of width. This works well with industrial or heavy duty shipping and storing.
For creative crafts, use paper gummed tape. It's ideal for stretching wet watercolor paper onto drawing boards. Unlike other tapes, water is required to make the paper gummed tape stick.
Don't forget to use tape dispensers to make your job easier. They hold your tape in place. Hand held tape dispensers are perfect for multiple packaging as it allows you to accurately place your transfer tape directly onto the surface.
Different kind of tapes work well for different kinds of jobs. Knowing which tape to use makes your task efficient and effective. Keep your supply closet well stocked with the different variety of tapes from Instabox.
9/24/2012